2009 Championship ENDURO
Round 10 Bon Accord MC Craiglash Enduro
4th October 2009
Click here for Results
A new venue for the end of season race ( apart from rescheduled Griffin) saw us up at Banchory in fantastic scenery and dry weather. Arriving in strong winds the day dawned dry and sunny in a quarry - nice hard standing to camp on.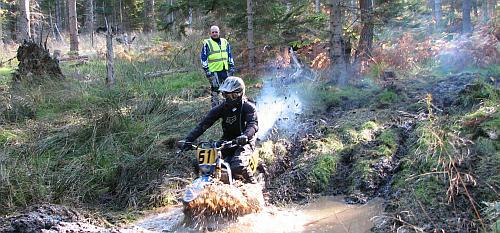 With a shortish lap for the first year here the course was called "technical" on several occasions by the organisers and those who had walked the test. This meant rocks , slippy tracks , rocks , a couple of bogs , rocks and finally a few rocks to finish with. The test also included "Collar Bone Alley" - to warn the riders if they came off.
Neil Chatham put in a tough ride to beat Frazer Norrie with Allyn Scotland in third.
Full report from Campbell Chatham
Pics by Sarah Innes , Morris and Angus Donald

Mike Robertson

Robbie Head

Kagen McKenzie

Yes the webmaster does ride events ( and finished )

Allyn Scotland

Davie Paterson picks it up

Then gives it a blast

Damned Evil Snapper strikes again

David Vass on the pace

Frazer chases Murray

James Harvey

Is that a 50p in there ?

Matt takes the dry line

Big Dave gives it a handfull

Murray catches up follows Bruce Venter

Neil Chatham

Niall Paton

Any route .....

Brebu Pizza Boys

And the Orkney Bus Crew Trophy Presentation

The start crew

Looks like a good route

The wet but safe route

Brian Middletton