Training day with a qualified instructor on the 11th of July & a Practice day on the 12th of July to raise funds for the 2015 Scottish ISDE Team.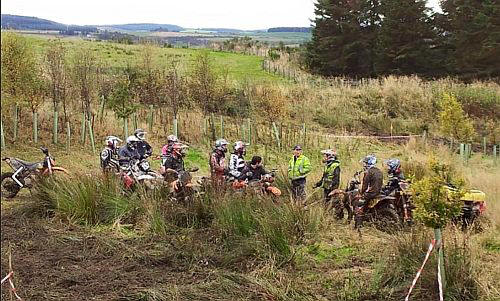 Thanks to Ricky Mair, ISDE Gold medalist winner and former Scottish ISDE Team Captain, he will be holding a training day on the Saturday at Birkenhill wood just outside Elgin. Numbers will be limited to a maximum of 12 riders and it will start at 9.30am and finish around 4.00pm with a break for lunch around 12pm(bring your own).
On ...the Sunday we will be holding a practice day on a fully marked/taped course approximately 3 to 4 miles long in Birkenhill(possibly with a few suprise man made objects). Unfortunately due to a lack of space we will again be limited to a maximum ammout of riders, the parking area will allow around 40 maximum and it will be on a first come first serve basis.
I will have forms for both days ready and finalised by the end of the week and will post links on here as well as on our website and on the Scottish Enduros website.
Email barry@elginenduranceclub.com for details . Entry form posted asap.
The practice day is for both Adult & Youth riders and is open to non club members also.
We're also very happy and grateful to say that the following parties have all waived their usual fees required to host such an event and as such all monies from both days will go towards supporting the Scottish team with their efforts in Slovakia later this year in September.
Ricky Mair of Highland Temporary Works Ltd.
Mr & Mrs Simon Jackson of Birkenhill wood.
The Scottish Auto Cycle Union.
Towergate Insurance.