https://www.facebook.com/p/Highland-Enduro-Club-100057397391778/
Disastrous news for the Scottish Borders Enduro Club as they lose all their equipment .
"Last weekend disaster struck unfortunately we have lost all the clubís equipment in a devastating fire. The farmer also has lost 2 sheds and their contents.
Where do we go from here Iím not sure."
See the SBEC FB page for more news. Hopefully we can all pull together and support the club to replace their kit. There are only a few clubs and officials putting on events and giving up their time to make the sport happen . If you value your sport lets help them get back on their feet.
https://www.facebook.com/p/Scottish-Borders-Enduro-Club-100068948263444/
It has been suggested the club start a Justgiving page - but we will have to see what the club decide.
16th September 2023
Hare and Hounds at Lauder on Sunday 17th September
Dirtbike Evolution
Results here - results2023\Final Results Rd 5 HH DBE.pdf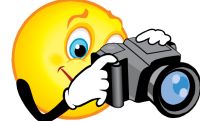 More photos of the day here
A great day out at Lauder after a lot of hard work put in by Steven Currie and the team at Dirtbike Evolution.
Some great racing all day and some tight finishes.
Andrew Bisset put in a great effort despite being the only Expert out - but turned up and supported the club. Riders need to ride events if clubs put them on or clubs will just stop doing them.
It costs a lot of time and money to setup and run an event - all you have to do is turn up and support the clubs. Or if you don't want to race then get involved in organising events and keep the sport going.
Enduro sport is run by volunteers - no one makes money out of it. So if you don't get involved there may soon be no events to ride.
Steven and Natlie at DBE have announced that this was their last event as it takes too much time and they are not getting any younger. See their full release here.
Sad to see such a great club not running any more events after some great Scottish Championship events and a superb British round.
But there was some great racing on the day. In Clubman class Robbie Davidson took the win from Alex Pringle despite his best efforts. Cai Hewitt had a horrible start when his bike wouldn't start - but never gave up and charged hard for 3rd to get as many points as possible.
In Over 40's Andrew Currie was flying all day to take the win one lap ahead of James Harvey with Gavin Johnston in 3rd.
Chris Gallagher smiled his way all day to the win in Clubman B ahead of stylish Alister Barr and Gavin Donald.
Andrew Flockhart lead the Over 50 class home ahead of a tight battle between Graeme Paxton ( on the Ex Steven Currie Gas Gas ) just 0.2 of a second ahead of Mike Rigg in 3rd
In Sportsman Jed Burn was the happy winner with Kyle Currie in 2nd and Mark Wilson in 3rd
In the super competitive Sportsman Vets class Steven Clark finished the day on top ahead of Jon Denison with Gerry Day in 3rd.
Thanks to DirtBike Evolution for a great day out - and 5 years of great events.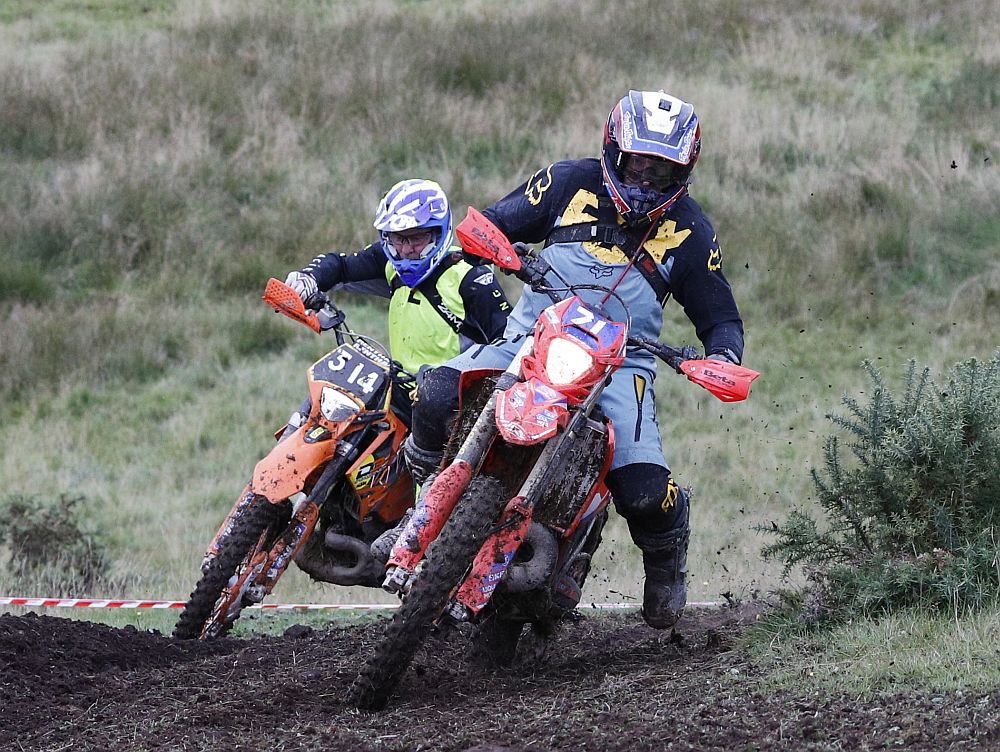 The Legend - Gavin Johnston in action
10th September 2023
Provisional Final Enduro Championship Points Standings for 2023
Click here for the points table .
After an exciting season long contest the Champions are finally decided. In several classes the battle went down to the final round .
During the season it was hard work separating the class winners are they were often only seconds apart after 5 hours racing and numerous special tests.
Thanks to all the clubs who made a massive effort over the year to organise and set out fantastic courses for riders to compete over.
Thank you to all the riders who took part and supported the Championship.
And congratulations to all the Champions for 2023.
Scottish Enduro Champions 2023
Expert Class
1st Andrew Bisset 2nd Sam Boyd 3rd Ben Thomson
Expert B Class
1st Calum Hill 2nd Alastair Millar 3rd = Steven Craig and Ryan Paxton
Over 40 Class
1st James Harvey 2nd Darren Cousins 3rd Ian Bisset
Clubman Class
1st Robbie Davidson 2nd Cai Hewitt 3rd David MacGillivray
Clubman B Class
1st Gavin Donald 2nd Alister Barr 3rd Thomas Malcolm
Clubman Over 50 Class
1st Robbie Allan 2nd Neil Dawson 3rd Andrew Flockhart
Sportsman Class
1st Derri Forde 2nd Tom Massey 3rd Neil H Alexander
Sportsman Over 50 Class
1st Phil Hewitt 2nd Bill Bruce 3rd Steven Clarke
4th September 2023

The final Championship Enduro of the year was at Bon Accord Craiglash forest on 2/3 Sept 2023.
A tough 2 days for the riders with hot weather as well.
An excellent event after a lot of hard work put in over the past few months by Ross Fisher and his team.
Thanks to the club for all the effort and finding a great new camping and start area.
Provisional results
Saturday results2023\Final Result Rd 4 Enduro Bon Accord 2 Sep 2023.pdf
Sunday results2023\Final Result Rd 5 Enduro Bon Accord 3 Sep 2023.pdf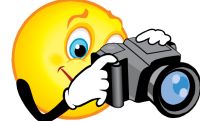 More photos here
Expert Andrew Bisset continued his winning ways and took 1st on both days - but Sam Boyd pushed him hard looking very fast in the tests.
Alastair Millar put in 2 good days to win the Expert B class on both days ahead of Calum Hill who managed to take one test to keep him honest.
The over 40's had a good battle over the weekend with different winners on the two days. Andrew Currie 1st on Sat with Darren Cousins winning on Sunday.
The usual suspects of James Harvey, Ian Bisset and Mark Anderson mixing it with Richard Copsey and Nicky Beavitt
In Clubman there has been a season long battle between the rising stars of Robbie Davidson and Cai Hewitt. This weekend Cai did his best and won both days with Robbie in 2nd both days.
David MacGillivray charging hard on both days for 3rd.
In the over 50's Robbie Allan kept his clean sheet with wins on both days with Neil Dawson relishing the course with some fine trials riding for 2nd. Billy Easdon taking 3rd on Sunday
There was a close battle in Clubamn B with Gavin Donald taking 1st on Saturday and Alister Barr pushing to take the win on Sunday. Josh Reid and Gareth Jamieson taking a 2nd place apiece
In Sportsman class Tom Massey and Derri Forde fought for 1st with Tom taking 1st both days and Derri 2nd. Newcomer Donald McKenzie had 3rd on Sat and Alan Bonner looking smooth for 3rd on Sunday
And the over 50 Sportsman class was tough on the Saturday with Steven Clark taking the win ahead of Phil Hewitt and John Kerwin who made the long trip North.
Several DNS on the Sunday meant a reduced field but no less competitive as Bill Bruce and Neil Alexander swapped test times with Bill taking the win at the final check. David Murray survived to take 3rd.
A great end to a short but very competitive season. Thanks to all the organisers and riders who travelled to support it.
Full Championship points and Champions at the end of the week after any queries have been dealt with.
Andrew Bisset in high flying action
30th August 2023
23rd August 2023
HEC ALtryre Enduro 19/20 August 2023.
Live Results for Saturday - results2023\Final Result Rd 2 Enduro HEC Sat 19 Aug 23 .pdf
Live Results for Sunday - results2023\Final Result Rd 3 Enduro HEC Sun 20 Aug 23.pdf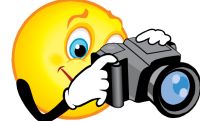 More photos here
The Highland Enduro Club had a successful weekend of Enduro sport with 2 days of proper off road riding to greet the riders who made the trip up.
The Saturday was a bit harder with some damp bits on the course proving testing - particularly the BOG and the HILL. These were taken out for the Sunday and lap times eased a bit.
Following a lot of the 2022 course in reverse there were also some new parts added in to make the route more interesting.
It was good to see some new faces out on the course and the new "Young Guns" having a close battle all day . On Sunday Robbie Davidson won the Clubman class by 5/100 of a second just pipping Felix Beavitt after 4 tests and a days racing.
Andrew Bisset put in some very consisted tests to take the Expert win ahead of Ben Thomson and fast improving new Expert Sam Boyd .
Derek Little put in a rare appearance to take the Over 40 win on Sunday with Darren Cousins taking the win on Saturday
In the over 50's Robbie Allan put in two top performances to take the win on both days ahead of Neil Dawson - who keeps getting better with each event.
Clubman B had Alister Barr winning on Saturday and Struan Hull taking the Sunday win.Thomas Malcom finishing 2nd on both days
Jamie Gardiner won Sportsman class on Saturday and John Weir pushed hard to take the win on Sunday.
Phil Hewitt looked on top form both days to take the win . But was less than a second ahead of Steven Clark on Saturday - in a close fought event.
Thanks to Altyre Estate for the use of the venue and the fantastic scenery (midges included). Another excellent event from Jim Mair and the HEC team - thanks for all your hard work.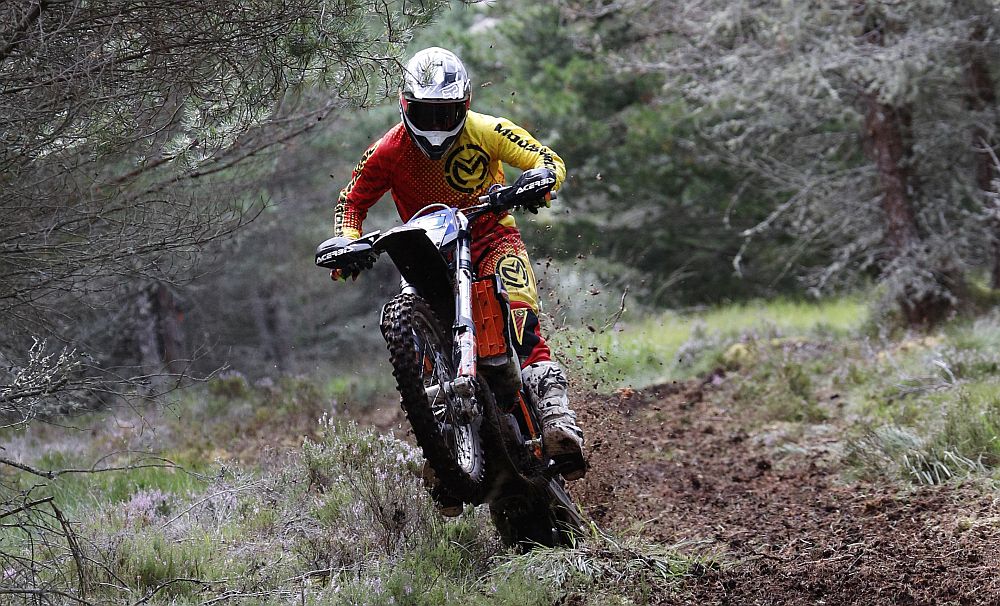 Derek Little in action at Altyre.
SBEC - Falahill near Heriot 9th July 2023
Results and photos now available for the 4th round of the Hare and Hounds Championship
Results here results2023\Final Results Rd 4 HH SBEC.pdf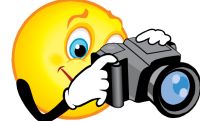 Photos here.
With an extended track and brilliant sunshine SBEC put on another excellent and testing Championship event with over 100 riders.
The course was longer than last year with experts taking around 25 minutes to lap. A new MX style section to start lead into a small wood then a bigger wood before joining up with the old track.
The bikes looked clean at the start but a long gully near the end turned muddy and made sure the riders had a cleaning job at the end.
Thanks to Andy Thomson and his crew and the Landowner at Falahill farm for an excellent venue.
Andrew Bisset won the Expert but was kept on his toes by Sam Boyd following close behind all day. Ricky Mair produced a great ride for 3rd with Joe Dawson in 4th.
Robbie Davidson lead the Clubman home with Alex Pringle in 2nd and David Wilkes in 3rd.
In Clubman B Chris Gallagher styled his way to 1st with Alister Barr 2nd and Alan Milligan 3rd. All on 7 laps with the rest on 6
Euan McConnell took a deserved Over 40 win - the only rider on 8 laps . James Harvey 2nd with Darren Cousins 3rd - both on 7 laps. Gavin Douglas - Vinduro organiser made the long trip North worthwhile with a fine 5th
Over 50 rider Neil Dawson pushed hard for a deserved win one lap ahead of Andrew Flockhart who just failed to beat the 3 hour flag. Pete Nixon put up a strong ride all day for 3rd
Kyle Currie lead the Sportsman class home ahead of Derri Ford and Trials convert Michael Mcniven .
The Sportsman Vets is always competitive and Steven Clark took a deserved win ahead of Robert Gardiner with Alan Strachan in 3rd - all on 6 laps - one lap ahead of the pack.
Great to see an event well supported and the club put on a bit of a show with an awards presentation at the end.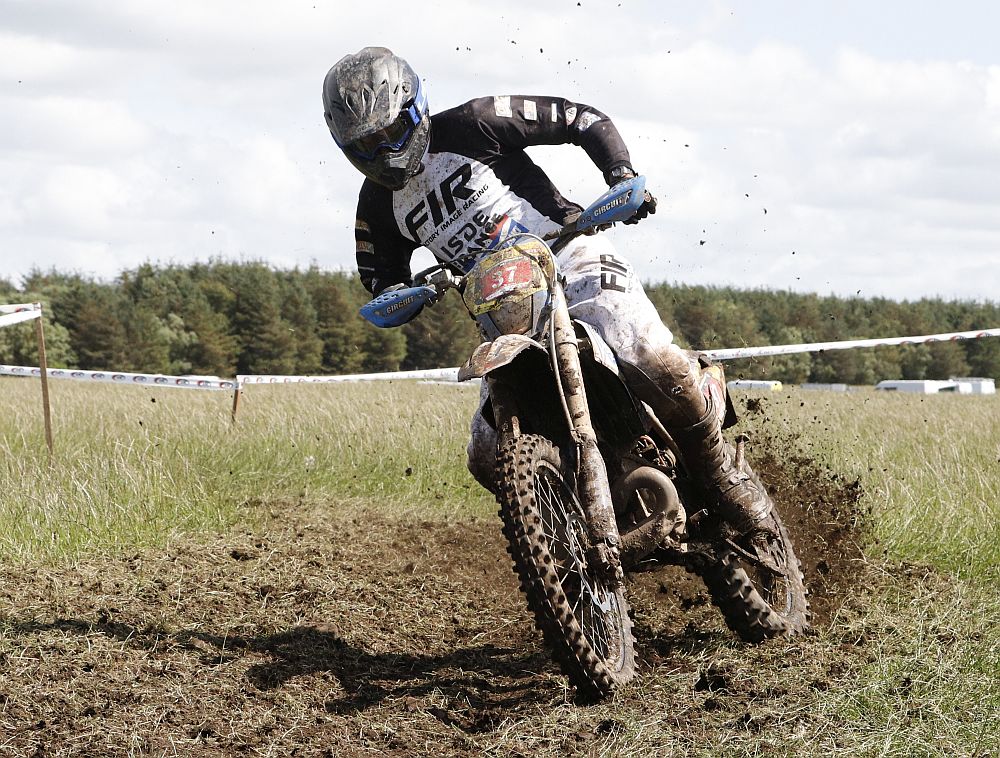 Euan Mcconnell in action on the last lap.
Updated Event Calendar for 2023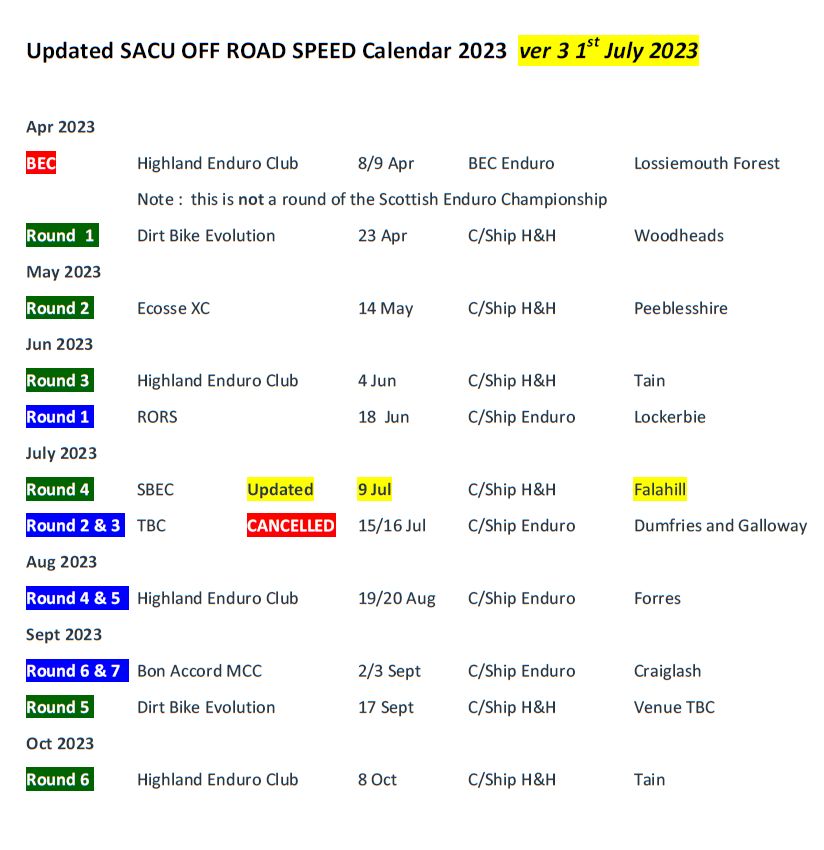 Latest News 30th June 2023
PLEASE NOTE -
CANCELLED
The 2 day Enduro planned for 15/16th July in Dumfries has had to be CANCELLED due to a lack of available land.
Latest News 21st June 2023
Stevie Todd has uploaded some great photos from the 1st Enduro round
https://www.facebook.com/media/set/?set=a.1969793840044241&type=3
Latest News 18th June 2023
Scottish Enduro Championship Round 1 - RORS at Lockerbie on 18th June 2023
Results - results2023\Final Result Rd 1 Enduro RORS 18 Jun 23.pdf
Latest News 11th June 2023
And now for something different.
Last weekend was the Inverness & Dist MCC 2 Day Classic Trial at Alvie. A long standing event with a glorious history.
Nigel Birkett was the guest of honour and along with other top riders made it a classic day out.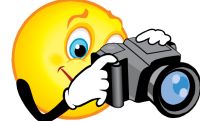 See photos of the event here http://www.scottishenduros.co.uk/99/alvie_trial_2023.htm
Nick Jeffries in action at Alvie