Enduro Holiday Spain.
Just back from a 7 day off road holiday in Southern Spain with 4 other regular Scottish Enduro riders, thought other may be interested. SOLMOTO operate the off road holidays from their base just outside the small town of Valeze Rubio. Holiday stated with a short flight from Edinburgh to Murcia, we were collected from the Airport by Steve the owner, the transfer takes approx 1.5 hours, it is very quick and easy to get to.
Accommodation is fantastic; the family run hotel only has a small number of rooms which are good a standard, lounge and dining area are also very comfortable, the outside pool and hot tub are just what you need at the end of a hot day on the bikes.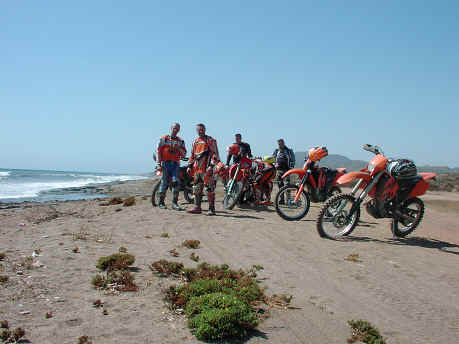 Riding covers five of the seven days, normally 3 at the start, a rest day in the middle, and 2 at the end, riding is as challenging as you want, we had a good mix of fast and slower technical riding. The day starts at 09:00 when you collect the 400 KTM's at Roger (the guide's) place, a stop for lunch at around midday and finish at around 16:30. Camel Backs and plenty of water are essential to prevent dehydration. Apart from the small rivers on route water, mud is a rarity. Dust can be a visibility problem when riding close together at speed, goggles are essential, regular wiping is required, leaving a good distance between bikes and taking turns at the back prevents the same person getting the worst of it all the time. Lunch and all bike fuel are included in the package.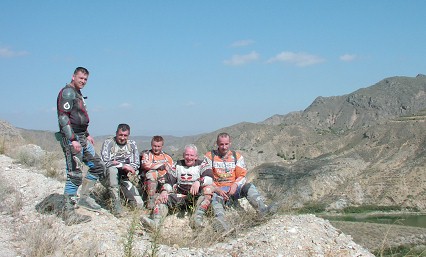 In the evenings you have the choice of eating in, Steve is an excellent chef so you will not be disappointed, menu to your taste is agreed before you depart in the morning, food is bought and cooked fresh. Or you can eat out, eating out in the local towns is good and very cheap, average price for food and drinks for an evening is 25 Euros, this is rural Spain, very cheap.
Steve, Debbie and their son Ben are excellent hosts, very friendly and welcoming, see details on their web site www.solmoto.com, I've attached some photos of our trip for information.