Muntjac Report from Campbell

Chatham

. BEC Round 1

(Photos from Campbell)
Scottish Riders report from the Muntjac

At the Muntjac this year there was the largest entry of Scottish riders at a British Championship event south of the border for many years. There were too many to mention all of them but it is a great reflection on Scottish Enduros that so many riders have travelled down to see how they compare with the best riders in the country and presently some of the British competitors are the best in the World. All the Scottish riders who made the long trip to Thetford should be congratulated for their efforts.

Ricky Mair was top Scot finishing 4th E1/4 and 12th Overall, Ricky was as spectacular as ever in this event that he really enjoys and he has sharpened his skill winning the Scottish MX2 Motocross Championship in 2010. Once again he was mixing it with the established names in British Enduros.

Neil Chatham finished 3rd E1/2, 5th Under 23 and 17th overall, although it could have been so different if a risky fuel strategy had not paid off. Neil decided to run the two tight laps without refuelling in an attempt to pull himself up the result table as time lost in the tests can be made up if you can minimise the time lost on the last lap. The strategy worked and Neil finished the lap with just a tea cup full of petrol in his tank, it did not matter as he had made it, just!

Fraser Norrie set a great time on his first special test and pushed all day, Frazer rode his Husqvarna with gritty determination and a maturity that belies his 18 years. Supported by his granddad and Graeme Barron he finished 4th E1/2, 8th Under 23 and 25th Overall which is a great performance for his first outing in the Championship class.

Richard Hay returned to the British Championship for the first time since injuring his arm, lesser riders would have ridden in a lower class but he opted for the toughest Championship class and finished in an incredible 27th place overall.

Allyn Scotland finished as top Scot in the Expert class following a mixed bag of luck and there is no bigger critic of Allyn than himself. Allyn was just ten seconds behind his countrymen in the Championship class but he thought he should have done better. On the last lap Allyn came upon an injured rider and stopped to assist, the organisers gave him his lost time back finishing 5th E2 and 8th Expert Overall.

Brothers Drew and James Harvey travelled down with Rab Farrell and they were all looking forward to a tough but enjoyable weekend. Unfortunately Rab's bike packed up within a few yards of the start spoiling his day, but typical Rab, never one to let these thing get him down, threw himself into supporting the Scottish riders in the parc ferme. Drew finished 8th E3 and 37th Overall Expert and James finished 12th in the Veteran class, both of them admitted that it was a really tough event especially the tight final lap.

Hamish Patrick saved his best till last in the Clubman class, after setting reasonable test times he really 'pulled the pin' on the final lap lifting himself up to 2nd E1/2 and 8th Overall Clubman. Reports from other riders suggested that he was picking really smooth lines through the trees in his usual relaxed style finishing top Scot in the Clubman class. Liam Lamb finished 4th E1/2 and 20th overall Clubman, despite riding last year Liam found the last lap really hard work and needed hydrated at the finish followed by a bag of chips to get some colour back into his cheeks. Liam was satisfied with his fourth place in the E1/2 and he is looking forward to competing in more British events this year. Dean Reid was one of the most disappointed riders as he had made it up to 2nd E1/2 and 7th Overall Clubman after the special tests. During the last lap he just hit a brick wall psychologically and found he could not hold onto the bike with fatigue. 'The last lap seemed to go on forever' he commented after he finished in 8th E1/2 and 35th Overall Clubman, although he has vowed to return next year to make amends. Nail Paton was entered last year but broke his arm in the Hare and Hound the week before the event and he was determined to finish this year as he had mechanical problems in 2009 and failed to finish. This year he made it to the finish although well down the order in 59th place.

Alastair Millar was 2nd Scot in Clubman 4th E3 and 15th overall, after a clutch lever problem on the first test he was 10th fastest on the second test, only to pick up 2 minutes on the 3rd lap and 13 minutes on the last, possibly due to not stopping between laps for a drink and fuel, he had a egg cup full of fuel left!

Saving the best till last once again Murray Thomson posted a cracking performance in the Veteran Class. Sand is not Murray's favourite terrain and the 2010 British Veteran Expert Champion was probably the only person praying for rain on the day, it was not to be and Murray charged around the last lap to finish 2nd Overall Veteran.

The Diss MCC Muntjac Enduro is one of the highlights of the year on the Enduro Calander, really well organised and the track stood up well despite the rain leading up to the event. Thank you to the team that organised the event and well done to all the Scottish riders who travelled down to take part.
| | | |
| --- | --- | --- |
| Dean Reid | Hamish Patrick | Fraser Norrie |
Neil Chatham fuel strategy result, just!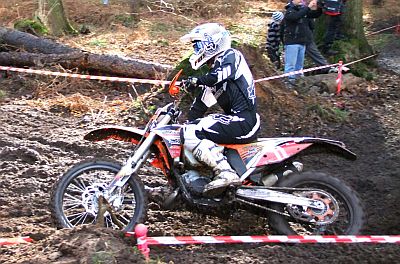 Neil Chatham returned to the British Enduro Championship having competed in the World and European Championship last year. Neil had been out of the scene for seven months following a broken wrist in Poland while competing for the UEM Promotional Enduro Team. A plate with eight screws in his wrist has seen a long road back to full fitness.
Neil started cautiously at the Muntjac and built his speed as his confidence came back. Neil rode the first two laps without refuelling his KTM XC tank, this was a test for the final two laps to see if his Drysdale Motorcycles KTM 125 would make it to the finish of the final lap with enough fuel. Neil set off on his last lap without refuelling and without looking at the tank, he just rode as fast as he could.
Neil made it home at the end of the last two laps with less than a tea cup of fuel remaining, but enough to get him to the finish dropping just four minutes and pulling his result up from 23rd after the tests to finish 3rd E1/2, 5th under 23 and 17th overall. See attached photograph, it could have been so different if he had not made it, Neil was ready in his mind to push the bike to the finish if he had not made the check at the end of the lap and luckily he did not have to resort to walking the bike to the final check.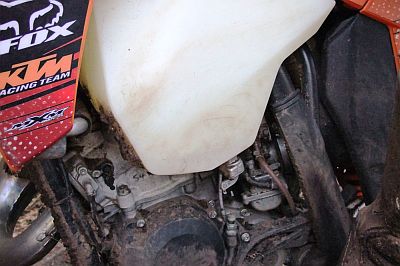 'I love it when a plan comes together, my dad suggested the strategy and I decided to go for it, I never looked at the tank until the last few minutes of the second lap and I had to back it off a little and I have never been so relieved to see the final check'.
This is Neil's best result at a British Championship and it is all the more satisfying as there was a full entry.
Thanks to KTM (UK), Drysdale Motorcycles, Metzeler, Shell Lubricants and Fox.
The next event is the British Enduro Sprint and Neil's confidence is back to show what he is capable of in the British scene once more.