2007 Championship ENDURO
Round1 1 Grampian MCC Iain Mckenzie Memorial Enduro
25th March 2007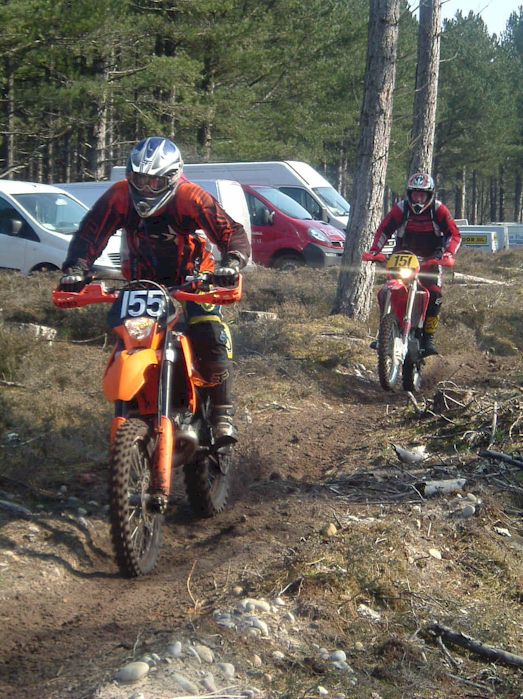 A chilly morning greeted the riders who had remembered the clock changed the night before the 1st round of the Scottish Enduro Championship at Lossie Forest near Elgin. As the day progressed the sun came out and it was a truly beautiful day, most of the bikes would only need a blast with an airline to clean them as the dry sand did not stick to the bikes. The sandy 25mile course would have most of the riders on their bikes for around 7 hours, the Grampian club ensured everybody who had travelled north had value for money.

Richard Hay dominated the Expert class with spectacular test times, Murray Thomson and Derek Little fought it out for second and third places. The times were very tight on a couple of checks and only the top three expert riders finished clean on time. Derek crashed in his last test and lost his timecard dropping him to third place. Grant Smith finished fourth and Dougie Kerr fifth, Paul Chatham crashed and badly bruised his forearm causing him to retire due to the swelling after battling for 2 more laps.

In the Clubman Neil Chatham won the class overall with Craig Jagla second, taking the E2 Class win. Stuart Mowbray finished third with Chatham senior fourth, E3 class winner Colin Bryan finished fifth. Neil did not have it all his own way as he dropped his bike in the first qualifying Special Test and a bike that ate 4 spark plugs during the day. The Clubman class will be very competitive this year with the new classes and there was very little between the top five.

The first running of the E1 E2 and E3 classes in the Clubman class looks like being very successful allowing more riders to gain points and will hopefully draw some riders up from the large Sportsman class

The Over 40 class was won by the double over 40 Scottish Champion Sean Wooley who would have made the podium in the expert class had he done another lap at the pace he was setting. Ex-British Over 40 Champion Graeme Naismith finished second on his 125 with the touring birthday party of Gavin Johnston third, Ian Shedden fourth and Alan Davidson fifth – Les Winthrop retiring with bike problems. All experienced trials riders and enjoying the speed of the forest course.

Sixteen year old Enduro newcomer Hamish Patrick won the Sportsman class at his first attempt, a superb performance, with two identical test times. Ross Hamilton finished second and Liam Beaty third.

Many thanks to Kevin Gauld and his team for another great event to start the season – and to John Little for producing the results.

An of course a big thank you to the Forestry Commission for allowing access to Lossie Forest.

Report courtesy of Cambell Chatham
Thanks to Angus Donald - Rosie and Rachel Patrick and Chris Hamill for all the photos - much appreciated.

The Webmaster - back racing

Alan Poynton gets the front up

Iain Little enjoys the sun

Jimmy Patrick leads a pack

Gerald Day at speed

Liam Beatty and Mike Robertson keep feet up

Richard Hay waits for another lap

Philip Caldwell

Sportsman Winner Hamish Patrick

"The fast bit"

Dougie Kerr gets some air

E1 and Clubman winner Neil Chatham

E2 Winner Craig Jagla

Alyn Scotland flies

Over 40 Winner Sean Wooley

Birthday Party Les Winthrop and Neil Dawson - Not bad for feet up boys.

Iain Wood enjoying the over 40's

Stewart Blackadder approaches the check

Then works out his time - first event .

Ian Hedley E3

Derek Little - not feeling well - but managed a fast day out.