Trail Riding in Wales
Marianne and Colin who run the trail riding we went with are lovely people and we stayed at their accommodation too, so if you are able to add them to your list, please do. Marianne is also a friend of Liz Millett if you need another recommendation, and used to compete in Enduros too. Tracey Currie has just returned from a trip there - and well recommends them - so give it a go.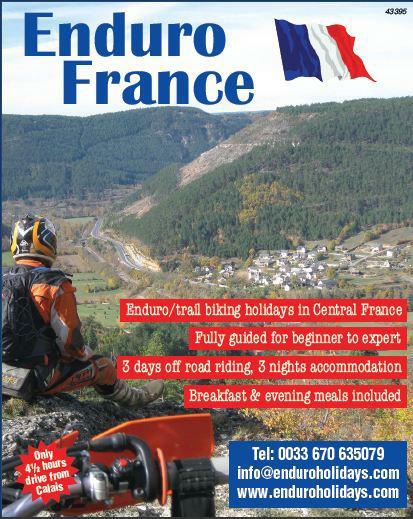 We are now called ENDURO FRANCE -based in the Morven Region
This is a three day tour based in the old market town of Autun, we are only four to five hours drive from Calais.
Each day the guide will take the riders out for about 8 hours of riding, different routes each day.
Forest, woodlands, rivers single trail, forest roads, hill climbs, mountain passes,we have the lot.
Each night the riders will be staying in a nice biker friendly hotel with your meals included.

See the video for a taste of France Video
Run by Dougie Aitken - a former Scottish Expert. Warm welcome guaranteed . see www.enduroholidays.com
Wilderness Wheels is the only desert bike tour company actually based in Morocco. Set up by Pete Gray from Newcastle who moved his family to Ouarzazate in southern Morocco a few years back, the company has now expanded to Marrakech as well where Pete's partner Brad runs tours up into the Atlas mountains as well. WW runs a mix of Honda XR400s 650s and XR250s (some bored out to 280) as well as a couple of CRF450Xs. All are well maintained. Pete and Brad act as guides and both speak French and Arabic as well as English (although Pete is from Newcastle so it's sort of English). I've been out to Morocco with Wilderness Wheels a couple of times and would recommend them. The prices are reasonable, the accomodation good (with local flavour) and the riding groups tend to be smaller than with similar companies. Pete and Brad also offer a Dakar spectating tour to follow the Dakar through Morocco every January and some years a tour to do the Enduro d'Agadir.
Review by Paul Carlyle