2009 Championship ENDURO
Round 11 ELRAT Robert Brownlie Motor Engineers Griffin Forest Enduro
25th October 2009
When Griffin was rained off in September the club asked the riders if they wished it to run at the end of October. With plenty of emails saying "go for it" the club carried on and prepared the course. The weekend before the ground was so dry it was cracking - BUT - of course come the weekend of the event it started raing on the Friday night and continued through Saturday. After the sighting lap by Duncan Braid it was decided to give the riders 1/2 a lap and all the tests.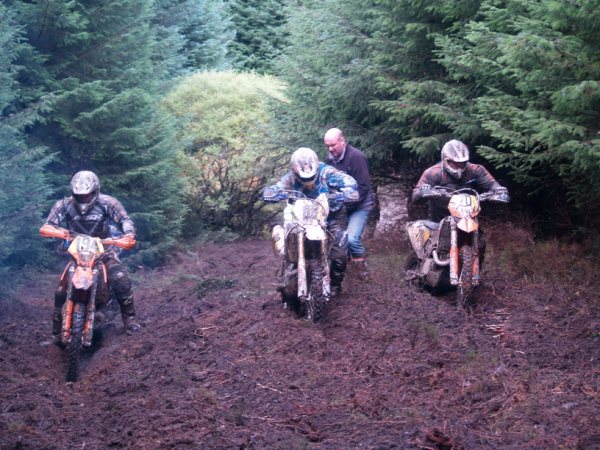 This proved tough enough for most riders with the test turning out to be the hardest part of the course. Another "Hamburger Hill" saw marshalls working flat out to keep the riders going - dragging them up the hill till they found some grip. Some riders - like Findlay White - rode up the test feet up - awesome ( but he is a trials rider).
With Derek Little and Grant Smith just back from the ISDE and sun and sand this was not the ideal event and their times reflected this. Neil Chatham was very keen to improve his Championship position and pushed very hard to take his third win of the year and finish the season in 2nd place.
Regarding the problem with penalties incurred due to waiting within the test section, for those in Clubmen and sportsmen classes.
We did not envisage queuing to take place when we set the time schedule for the extra test section, it was originally ridden in 6 mins, thus we set the time of 20 mins feeling that to be adequate.
We have taken the decision as follows
Your test time will count, you will be given 3min/180 to get from start/ finish to test and 1min /60 to exit and hand over time card.
So if Test time+180+60is less than or equal to 20min/1200 you will not incur any penalties.
However if you were late on the previous full lap this will still count.
Results will be reworked accordingly. Caroline
The latest results have been posted to show this.
Thanks to Tilhill Economic Forestry for the use of Griffin - and th Atholl and Caroline for all their efforts to put the event on.
A tough close to a tough season - roll on 2010.
Read Campbells full report - click here
Photos from Lawrence Scotland

Fraser Norrie starts the hill

Followed by 2009 Champ Derek Little

A typical hill start

Allyn Scotland in 2nd

Fraser with his new KTM

Murray attacks

Winner Neil Chatham

Derek keeps it going

"There is grip somewhere"

Frazer goes down

Followed by Murray

Gets going and up

Being a Sunday - time for a quick prayer