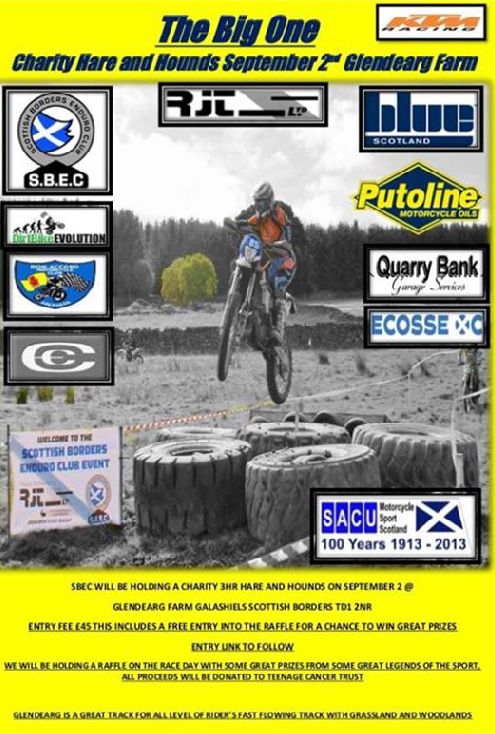 The Scottish Borders Enduro Club ran a Charity Hare and Hounds on Sunday 2nd September in aid of the Teenage Cancer Trust in memory of Craig Nixon.
It was a well supported event with 100 riders entered. The club put on a great course with an "extreme " section to test the riders. The event was dry for the event which allowed the newer riders to get round the course.
A great job by the club and thanks for all their hard work - it was worth it. The club also ran a raffle at the event with a lot of local and distant sponsors contributing a large number of prizes - from goodie bags to sets of tires - very generous . The insurer Sports Insure and the SACU waived the costs for the event so all the money raised went to the charity.
Thanks to all the riders who turned out on the day to support the event . And as always a thank you to landowner for the use of the ground
SBEC presented the Teenage Cancer Trust a cheque for £6000 .The H&H event the club held at Glendarg was in memory of Craig Peter Nixon & Craig's sister Lisa handed the cheque over to Emma Vickerstaff regional fundraiser for the charity. a massive thanks again to all our sponsors & helpers.
Thank you to all the Riders who entered the event it was a great turnout & to all the Marshals for helping out .
Thanks to Craig's family for allowing us to hold this event in his Memory .
Blue Group
David Knight MBE top World Enduro Rider
Lyndon Poskitt Dakar Rally Malle Moto Rider
Ecosse XC
Dirt bike Evolution
Marlin Industry's
Wm Moto
Lindsay Rae
Ryan Borthwick
Drew Harvey
RJT Excavations
Tom Douglas & Ben Douglas ( Landowners)
Jim Harvey
Kenny Donaldson
Melville Motor Club
Quarry Bank Garage


Putoline
Renthal
Jane Daniels top British Female Enduro rider
Jack Edmonson top British Enduro Rider
Firepoint Andrew Maben SACU
Kevin Watson Engineering
John Falla
Jimmy Ballantyne
Caroline Thomson
Sports Sure
The Bruce family
John Little for doing the Timing
www.scottishenduros.co.uk (Charlie Mackenzie)
ET James & Sons for tape
Pamela Thomson for Hampers
The Artisan Van for top quality food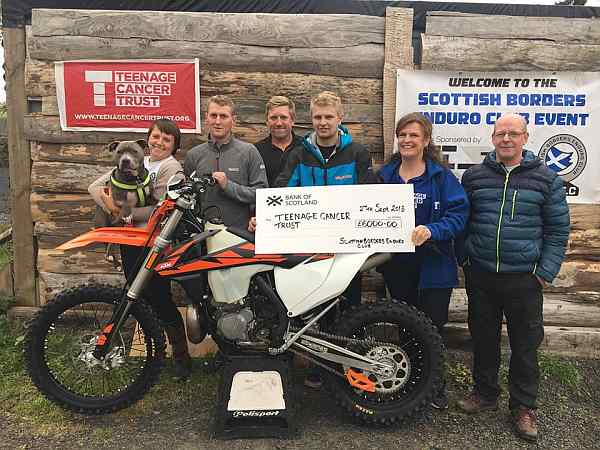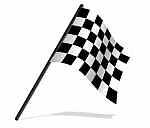 Results - click here. Ben Thomson put in a great 12 laps for the win with Ben Mitchell pushing hard for 2nd with 11 laps - only Mark Ritchie (O 40) and Andrew Currie ( Clubman) also managed 11 laps.
Prints available - A3 size - £5 plus postage. Email webmaster@scottishenduros.co.uk

Les Pole and Lindsay Rae with the organiser from the Teenage Cancer Trust

And they are OFF

BEN MITCHELL HEADS THEM OUT

STEVIE CURRIE TEST THE AWESOME ARTISAN VAN WHILE KENNY TAKES IT EASY

BEN MITCHELLS HEADS OVER THE DRUMS

OWEN GOURLAY SHOWS ONE WAY TO DEAL WITH AN OBSTACLE - JUMP IT

DUANE WHITTAKER AT SPEED

ANGUS GETS SOME AIR ON THE WAY TO THE WIN

BEN THOMSON KEEPS IT TIDY

JERRY MILLICHIP PUSHES HARD

LES POLE FLYING AND SMILING - NICE ONE

ANDREW CURRIE LOOKING GOOD FOR THE WIN

BEN LOOKING GOOD ON THE WAY UP

BUT THE EVIL SNAPPER IS NOT FAR AWAY . . . .

M PEIRPOINT CRUISES PAST GALASHIELS IN THE BACKGROUND

WE "ARE" HAVING FUN

THE EXTREME SECTION

MARK RITCHIE PUSHES FOR THE WIN

BEN KEEPS ON FLYING

LINDSAY PRESENTS (AND DONATED) THE HOLE SHOT PRIZES

PLEASE HELP TAKING DOWN THE COURSE - EVEN RORY HELPED OUT